"After women, flowers are the most lovely thing God has given the world." — Christian Dior  
Flowers have always symbolize great aesthetic pleasure in all human, particularly women's, eyes. Pretty much like an everlasting celebration of femininity in pretty packages, stiletto heels and alluring fragrances. Something which I definitely lack of — not the celebration, but the attraction towards flowers. Beauty, however as we all know, is highly subjective.
So, I braved through all personal judgements and emotions by taking over one of the many floral pieces from my sister's wardrobe for a day. She is one god damn crazy floral fanatic! Picked a skirt that is pretty out of my comfort zone to challenge my receptiveness.

While I'm at it, threw in some orange hue for my comfort and sprinkle a little bling from HAUS OF PESH with one of my favorite QUEIN necklace in space grey and custom-to-size NIRVANA bracelets! Also for the funky rings; ROCASS, CRUXIE and DECODIAN are running out on the website. Pleasantly surprised, and assured that the next time will be a better and bolder play.
Skirt: Korean vintage store | Loafers: Car Shoe | Bag: Louis Vuitton | Jewelry: HAUS OF PESH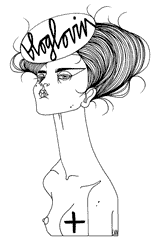 You might also like