"What good is the warmth of summer, without the cold of winter to give it sweetness."
— John Steinbeck 
Not sure if you ever felt the warmth of winter; it comes through when the flakes of snow gently kiss the ground in the most tender and loving way. The icy chandeliers hang on to the company of the bare trees, and flurry of snow hovers together in the frigid air as if they were dancing in wonderland. Imagine, just imagine if you were a character in this scene; holding a warm cup of milk (or if it was more ideal to be holding a glass of whiskey neat) in your hand standing by the window in your little hillside cottage overlooking a dark yet glittery sky locked in an embrace with the beautiful snowy situation. The kind of little smiles that would probably fill your heart with warm hugs.
There is another kind of warmth that tends to be more relatable to most people. You know, the one with cheery birds chirping melodiously outside your window ledge at the break of dawn. Waking up to the rays of sun gradually shining into your room, you'd be urged to get that sexy little ass up and slide your feet into those furry bedroom slip-ons and stride gracefully across the room to the window as if the wind had carried you over. There is this fresh air with blooming flowers scent and occasional breeze that  seem to spur the celebratory vibe amongst all living things in the habitat right under the soft and warm sunlight. You may see bits and pieces of the memories winter has left behind; crystal-like puddles of water of the melted chandeliers dived into the ground as a blessing to aid the growth of the bare trees. Colors filled across the land and the smiles on your neighbor's faces widen majorly.
However you see, without one there wouldn't be the other. What I find more beautiful is the transition between the seasons. And this recent shoot gave me the kind of warmth that exists exactly at this point. If I were the character in the second scene, I will dress exactly like how I did in the shoot and dance around in my garden the entire morning…
Could not quite decide which necklace fits best with the outfit and its story. FAERIE in pink, IMPERIAL in cream, and pastels NIRVANA all available on HAUS OF PESH!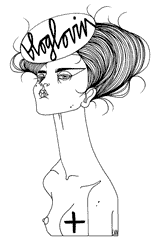 You might also like