"Salt is added to dried rose petals with perfume and spices, when we store them away in the covered jars, the summers of our past." — Wallace Stegner  
Flowy silhouette indulges in such breezy weather. Translucent neon pink sleeveless top with elongated back and distinctive front cut. Prints on yellow two-piece bikini and gold hardware sunnies. Summer hues synchronized!
A past beach vacation to warmly welcome a new destination come monday. No better day to crush those blues! Anticipation is an understatement. If I have to actually describe, to a degree of precision, on what I am going through now the right word should be Palpitation. A palpitating heart. A little bird told me a break in the arms of nature with zero network connection to the real world is possibly the best paradise. That really fascinates me. It could be a turning point to stop succumbing to technology slavery. Can't wait to absorb alllllll of the sun and the salty air!
Top: H&M | Swimwear:  Sinful by Affliction | Sunglass: Paul Smith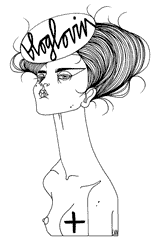 You might also like