"Mystery creates wonder and wonder is the basis of man's desire to understand." — Neil Armstrong  
In a semi-conscious state of mind, being swept by the ocean onto the soft, white, sandy shore. My vision could somehow only focus on a tiny human figuring at a distance not at all near, running towards my direction… however, the world blacked out on me in a mere few seconds as I was trying to reach out.
A soft, muffled crackling sound like that caused by the movement of dry leaves, got louder as the strong wind blew. Water droplets fell onto my face as I was awakened by a light touch of what felt like soft lips and a deep warm breath on my forehead. I strained to open my eyes with the piercing sun rays, shortly after the crack of dawn, shining right in my face and the cool sea breeze blew me into shivers. I saw a trail of foot prints on the sand which led up to a couple metres distance — there was a lady with long, dark brown hair turned her back around and walked away. Her hair flowed freely over her shoulders like how the tentacles of jellyfish move around in the water. As she walked, her white dress danced in the direction of the wind that rattled and swayed the palm trees simultaneously. The rustling sound of the leaves seemed to act as the purest form of background music in perfect synchronization to the beats of her footsteps. It was a beautiful sight.
Who's that beautiful lady? I thought to myself, followed by a question of my whereabouts. I only remembered the point cruising through the sea in pitch black when a big storm came crashing and in the process of gobbling up my boat. In a blind panic, I ran out to the deck not too sure if I should jump off into the water… at some point my memory seemed to cease instantly. It felt like a giant gorilla with a huge axe hammered me from the back of my head. I blacked out. It hurts, I mean my head was still hurting while trying to recall what or rather how it happened that caused me to end up on this deserted island alive… with a bamboo flute in my hand. "What?! Alive on an island?" Considering the fact that I was sailing in the middle of open water where not a single piece of land was to be found at all prior to the shipwreck. And why yes, a bamboo flute? Where did that even come from? I wondered, in pain.
Upon gathering all the strength I had left to get myself up on my feet, I searched for life, food, shelter and anything necessary for survival. It was tedious, I got myself sunk about a metro deep into the muddy soil of the mangrove, which freaked me out like quicksand, while trying to reach out for the cannonball fruit which was attached on the mangrove trees. You know. it doesn't seem too far out if I put in a little more effort… I got it but I fell. Struggled my way back to the beach to wash myself up and had a couple mouthful gulps of the salty seawater. The fruit I got took so much energy out of me just to crack open it. It was hard as steel and totally inedible. Uncontrollably, I let out a loud sigh of desperation. I could almost cry out to the sea if I had anymore energy. "Why am I on this lonesome island with nothing… nothing, but a beautiful lady… who seemed to have disappeared?" I pondered into the night, awaiting the next sunrise.
Sunglass: Paul Smith | Top: Zara | Shorts: Mustang Denim | Sandals: Havaianas | Jewelry: HAUS OF PESH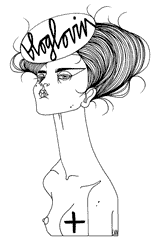 You might also like